A Blueprint for Growing Pennsylvania's Economy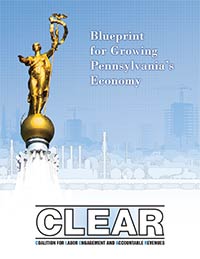 Click here to Read the A Blueprint for Growing Pennsylvania's Economy, issued in February 2019
Click here to Review a Chart of the CLEAR Coalition's 2019-20 Budget Recommendations
Click here to access research by the Keystone Research Center regarding the state minimum wage.
Keystone Research Center: The Pennsylvania Minimum Wage 2018
The Keystone Research Center has issued a new report on the Pennsylvania minimum wage, which has not been raised in 11 years. The study shows that:
The minimum wage in six of our border states — Delaware, Maryland, Ohio, New Jersey, New York, and West Virginia plus the District of Columbia — increased on average by 26 percent between December 2013 and this January.
Pennsylvania's $7.25 wage stands 13.8% below the minimum wage in Delaware; 14.5% below Ohio's; 18.6% below New Jersey's; 20.7% below West Virginia's; and 27.6% below Maryland's minimum wage.
Overall in Pennsylvania, real wages in food services grew by just 5% while on average across the region (Delaware, District of Columbia, Maryland, New Jersey, New York, Ohio, and West Virginia) they grew 7.8% between 2012 and 2016.
CLICK HERE to Access KRC's Report and News Release on the Minimum Wage.