Closing Loopholes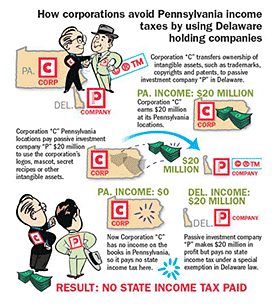 It's time to close tax loopholes, and for corporations to pay their fair share
More than 70% of corporations in Pennsylvania do not pay any income tax! Corporations like Walmart, Home Depot and Toys "R" Us use the Delaware tax loophole to avoid paying taxes on their income.
Tax loopholes cost us, the taxpayers of Pennsylvania, hundreds of millions of dollars each year. This money could be used for education, health care, protecting our environment and helping working families.
It is time for our elected officials to close tax loopholes and make the state's tax system fair for all Pennsylvanians and all Pennsylvania businesses.
$700 million per year for economic development incentives. x a small reduction of just 5% = $35,000,000 in annual savings.
The CLEAR Coalition today urged lawmakers to reject risky pension and privatization proposals that would cost taxpayers billions of dollars and instead focus on passing a budget that restores cuts by halting corporate tax giveaways and finally closing tax loopholes.